THT Skip Hire
Providing a website to display an established business's skip hire services.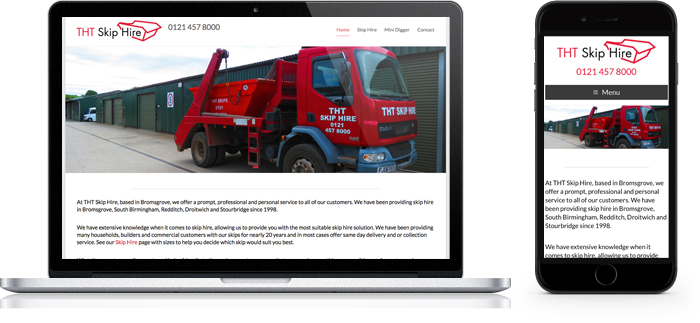 Logo
Having a big red truck with a big red skip on the back was the starting point for THT Skip Hire's logo. We designed a new red logo that could be used on clothing, cards, their new website and their big red truck.
Email Address
Using personal email addresses can give off the wrong image when presenting a professional business. We created a new email address for THT Skip Hire so they could maintain the professional image through every step of their business.
THT Skip Hire had a very basic website since the start, it was in need of modernisation and we gave it a fresh clean design. It serves the purpose of being an effective display of their services.
Hosting
We helped THT Skip Hire keep and transfer existing domain name over to ourselves and now host their website on a daily website. THT Skip hire enjoy not having to worry about this part of their website.