Howes Housing
A website created to display a property portfolio situated in Harborne, Birmingham.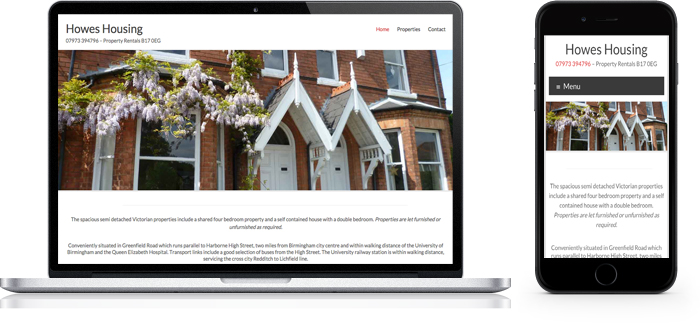 Design
Howes Housing came to me for a complete re-design and creation of their website. We worked together to come to a straight forward and easy to navigate website, which could be easily found by prospective tenants.
Email Address
We also created a new email address for Howes Housing. This allowed them to keep their personal and business emails separate, whilst providing existing and prospective tenants with a professional point of contact.
Management
Howes Housing is a thriving rental company, so management of their website alongside their company isn't economical. We run the day to day management of the website and make any changes when needed.
Hosting
Along with management of the website, we sought out their domain name and host their website on a monthly basis. Another way we keep the addition of a website, to a current business, as stress free as possible.