Self Drive Transporter Hire
A website to display the services of a car transporter in Bromsgrove, Worcestershire.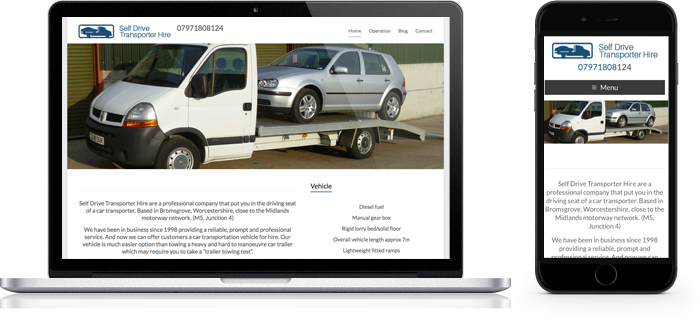 Design
The Bromsgrove based company had an existing website that needed updating. We created a website that would display on all devices and gave it a fresh new look. It displays their services and creates an extra vehicle for advertisement.
Optimisation
Our main aim was to increase traffic through the website, the best way to do this was become more apparent on Google. By using the correct keywords and optimising the entire site we achieved our goal.
Photography
On their premises in Brosmgrove we got some great shots and even videos of the self drive transporter in action. The videos were great for using on Facebook and twitter to introduce potential customers to the service.
Social
Our client had never set up social media accounts for their company. By creating the accounts and managing them we were able to direct traffic to the website and create new business opportunities for them.